Residential Aged Care Services
1. Sachet medication packaging - On Site Sachet Packing System.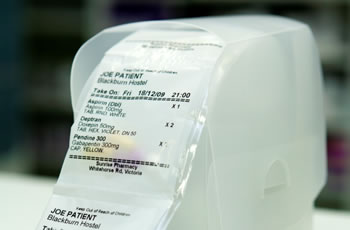 Sachet system-roll of sachets pre-packed with medication using specialised machinery.
Find out more about Sachet Medication Packaging
2. Webster Medication Packaging and Management system - Packing, charting, reporting.
Options for Blister Pack-multidose packaging (more than one medication), OR unit dose packaging (one medication per blister).
Find out more about Webster Medication Packaging and Management System
3. Medication charting
All charting options are provided as per facility request.
4. Regular timetabled Medication Chart Audits
Performed at regular intervals
Full report forwarded to D.O.N within 7 days of audit
Immediate follow-up of any serious issues found
5. In-service training
Educational Seminars delivered to Facility staff upon request by Pharmacy Pharmacist.
6. Medication reviews and Administration Advice - just a phone call away.
To crush or not to crush - we can advise.
With food or on Empty stomach -we can advise.
Will it interact? - we can advise.
Can my patient take this OTC medication safely with this drug regime? - we can advise.
My patient's allergic to 'X', can they take this medication? - we can advise.
7. Management Meetings
Regular monthly timetabled short meeting between Pharmacist Manager and D.O.N/Clinical Care Co-ordinator.
Discussion of:

Incidents/Events of past month.
Problems/concerns (Pharmacy and Facility).
Processes that are working well.
New innovations.
Medication "Out Of Stocks".
General business.
8. MAC meeting attendance
Pharmacist available to attend all MAC meetings.
9. Accredited pharmacist available to perform RMMRs
Chempro employs the services of an accredited Pharmacist contracted to perform RMMR's (Medication Review) within Aged Care facilities and HMR's (Home Medication Reviews) in the community.
10. Personal Service-Communication is the Key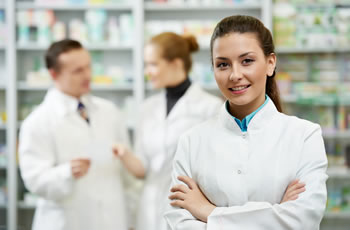 Good old fashioned service
Getting to know you; personal visits; not just phone/e-mail communication, both with our pharmacist and the staff who assist the pharmacist with your facility's requirements.
11. Large Retail Product selection
Chempro Chemist Ashmore Plaza has a very large retail business, selling a wide range of items, including:-

A large variety of vitamins, Pharmacy Medicines (S2) and Pharmacist Only Medicines (S3) medications, diabetic area, weight loss product and a large range of Cosmetics and hair care products.
Expert advice.
Staff and residents at our facilities have access to the large Retail product range.
Facility staff gets a staff discount card giving access to 10% discount when visiting Chemist Ashmore Plaza.
12. Deliveries
Regular DAILY timetabled delivery service.
13. After Hours Service
An After Hours Emergency service is provided at nights and weekends.
A Pharmacist employed by Chempro Chemist is contactable at all times via an After Hours phone number provided to all facilities.